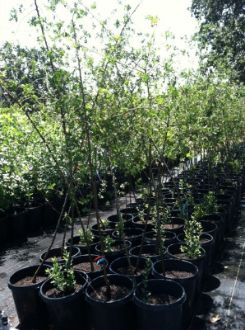 SRT is here to help with plant sales at our Dry Creek Nursery at Dry Creek Preserve. Our friendly nursery staff will be happy to help you pick the perfect plant for your water-wise or native plant needs.
The next plant sale date is Saturday, June 11 from 9 a.m. to noon. This sale we'll be focusing on plants that attract wildlife to your garden, such as butterflies and hummingbirds.
It's easy to get to Dry Creek - take Hwy. 198 east to Hwy. 216 just past Lemon Cove, and turn left (north) onto 216. Go over the bridge and turn right onto Dry Creek Road. The preserve is about 2 miles ahead on the right with our new sign ready to welcome you.
If you have leftover recyclable nursery containers from previous plant purchases, considering bringing them along to donate to SRT. We are all about reusing to save money and the planet. Five-gallon size pots especially needed.
All sales are cash or check only at this time. See you there!