Located five miles north of Springville, SRT's Sopac McCarthy Mulholland Blue Oak Ranch Preserve is a magnificent 908-acre nature preserve nestled among substantial public lands, including Giant Sequoia National Monument, Sequoia National Park and the Sequoia National Forest. It is located just across the road from the venerable Clemmie Gill School of Science and Conservation (SCICON).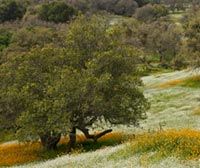 SRT's Sopac McCarthy Mulholland Blue Oak Ranch Preserve includes rolling blue oak woodland, chaparral and the headwaters of Sycamore Creek. Located within the Tule River area, this magnificent nature preserve protects an important corridor of habitat between the foothills and higher elevation streamside areas for rare mammals, like the Pacific fisher and for songbirds like the rare Swainson's thrush and black swift as they migrate between their summer and winter ranges.
Sequoia Riverlands Trust purchased the land for the 908-acre Springville area nature preserve in 2005. In 2019, Blue Oak Ranch Preserve was named in honor of former SRT Executive Director Soapy Mulholland, who retired in December of that year and was instrumental in the establishment of the preserve during her tenure.
Conservation Stewardship Plan
By working with neighbors and the local community, SRT has developed a long-term conservation plan whose vision includes sustainable grazing as a land management tool.
What to do if you'd like to visit SRT's Blue Oak Ranch Preserve
Blue Oak Ranch Preserve is not currently open to the public on a regular basis, but SRT does hold special events there. We are also working to open the nature preserve for visitor use, which will include opportunities for horseback riding on the land. Check our online calendar or sign up for our e-newsletter to receive news updates and learn about programs at Blue Oak Ranch.
How to get to SRT's Blue Oak Ranch Preserve
Blue Oak Ranch Preserve Photos