In this section you will find some of our publications. For media inquiries or to schedule an interview please contact Aaron Collins, Director of Communications and Community Relations, at (559) 738-0211 ext. 118.
SRT E-News Quarterly
Currents is published the second month of each quarter.
Click below for most recent Currents issue.
Annual Reports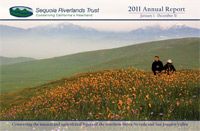 Wilderness Within Reach - Winter 2012