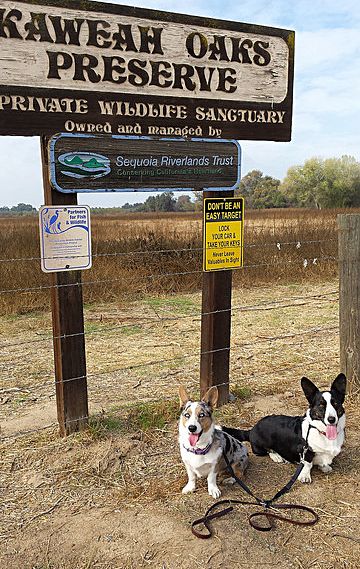 Do you have a dog who doesn't play well with others? It's a bigger issue than you might think, in a world where people take their dogs everywhere - including our own Kaweah Oaks Preserve, where dogs on leash are always welcome.
You can help your pup learn some manners at a Pack Walk on Saturday at KOP. Professional dog trainer Debbie Tisdale of All Ears Dog Training will lead the Social Walk'n Train session starting at 9 a.m. to help dog owners socialize their pets in a real world setting.
The walk will probably go from the KOP parking lot down the Sycamore Trail and back, and Tisdale will answer owners' questions about why their dog does what it does. Fun for your dog, fun for you, and a positive experience for all.
SRT loves dogs, but we do ask that dogs on our preserves be on leashes no longer than 6 feet, and up to date on their vaccines, too. Bring dog waste bags, too - you know walking will loosen them up!
Your dog must be friendly, but even the friendliest dog can be unnerved by strangers, so don't approach dogs you don't already know. By the end of the walk, your dog and you may have a whole pack of new friends!