AUSTIN FONTANILLA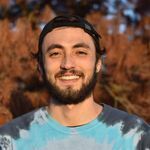 As SRT's Conservation Project Manager, Austin works with SRT's stewardship and acquisition teams to produce maps for grant applications, conservation easements, strategic planning documents, and reports to government agencies. He also manages a database for SRT's entire portfolio of landholdings and land management activities spanning nine counties.
Austin comes from a mosaic of jobs in environmental planning and natural resource management like utility vegetation management, municipal storm water compliance, and regional transportation planning. In 2014, he spent a year abroad in Chile and explored a diversity of ecosystems. Through these experiences and relationships, he was inspired to study and pursue work relating to environmental sustainability. Two years later, in 2016, he earned a degree from CSU Monterey Bay in Environmental Studies, with a concentration in Science for Sustainable Communities.
Austin's states his dream for conservation in the SJV: "to partner with transportation agencies to weave regional bicycle and pedestrian corridors into future conservation decisions. Restoration projects could happen along the bicycle/pedestrian trails, which may [eventually] provide shade for the commuters."
In his free time you can find Austin shopping at the farmer's market, seeing live music, or online playing video games.
You can reach him for questions or comments at austin@sequoiariverlands.org.