For media inquiries, press interview scheduling, or community relations matters, please contact Aaron Collins, SRT Director of Communications. 
Picnic for the Preserve to celebrate 35 years of Kaweah Oaks Preserve
Diane on 04/12/2018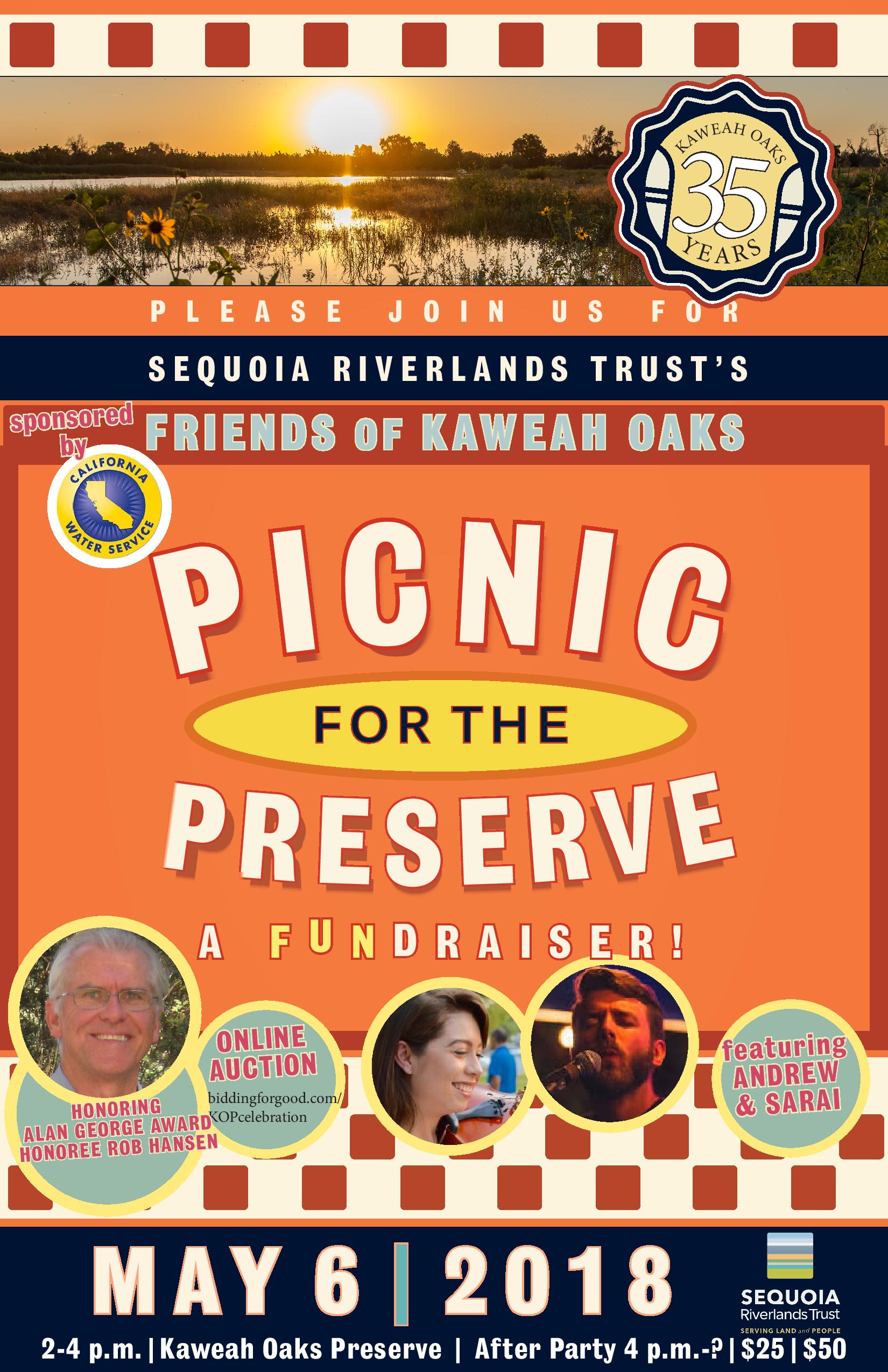 Sunday, May 6 will see the debut of a new fundraiser for SRT, a celebration of our flagship preserve's 35th anniversary. Picnic for the Preserve, held at Kaweah Oaks Preserve, will be a chance for everyone to get out in nature while he weather is beautiful, while helping SRT raise funds for our continued efforts to "inspire love and lasting protection for important lands."
The Picnic for the Preserve will start at 2 p.m. on May 6, in KOP's picnic area, featuring live music, guided hikes, and the announcement of this year's Allen George Conservation Award winner, College of the Sequoia's Professor Rob Hansen. As this event winds down around 4, we'll start the "after-party" over in the Event Area at KOP, an adults-only affair with a no-host bar and a chance to learn more about SRT's latest works and to hear more from Hansen.
Tickets can be purchased for either part of the day, or both, starting at $25 for either the Picnic or the After-Party, or $50 to attend both. Tickets for children 5-12 for the Picnic are just $10, and children under 5 may attend free. You can purchase tickets at https://www.biddingforgood.com/auction/communicate/eventtickets.action?auctionId=307527913 - or call the SRT office at 559-738-0211 and ask for Marilyn or Diane.
Even if you can't come to the day's event, you can still help SRT out by checking out out online auction fundraiser. The auction will run from April 23- May 10, and features some really amazing items, such as tickets to Disneyland, Magic Mountain and Monterey Bay Aquarium, as well as local events like the upcoming Jethro Tull concert at the Visalia Fox Theatre. We also have fine art photography and paintings, as well as gift certificates, gift baskets, and plants and pottery. Help us and get something great in return! You can check out a preview of the auction at https://www.biddingforgood.com/auction/auctionhome.action?documentId=311360266 anytime before the April 23rd start.
We look forward to seeing you soon at this fun, new event.