Join the party animals at Evening Under the Oaks: Nature After Hours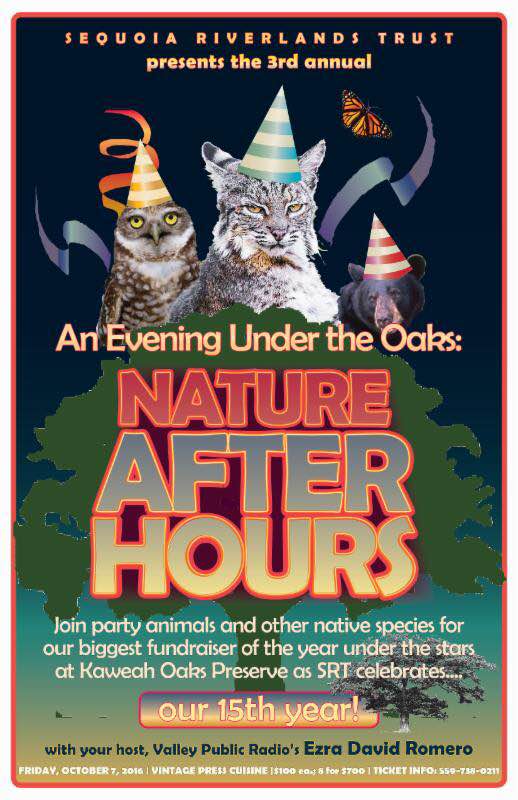 An Evening Under the Oaks, the SRT event that puts the "fun" in fundraising, will be here in just six weeks! We hope you'll come out to Kaweah Oaks Preserve on Friday, Oct. 7 for a good time with great food and people under the shade of a glorious Valley Oak tree.
This year's theme is Nature After Hours, inspiring this fun image. Want to party after dark with the animals of KOP? Here's your chance!
Our EUTO host this year is Valley Public Radio's Ezra David Romero, who knows KOP well and loves the outdoors just like we do. Our Alan George Award winner is Bill Tweed, the author and naturalist from Three Rivers, who recently left the area but will back in town for this event and to promote his new book, "King Sequoia."
Tickets will go on sale on Tuesday, Sept. 6, and you can buy them on our website, at the SRT office, or over the phone. Tickets are $100 again this year, or if you have a group going, buy eight tickets for $700. Your ticket will not only get you great food and beer and wine, but a chance at winning one of several prizes in a drawing. Top prize is a table made from a tree removed from KOP last year, crafted by Springville's B.J. Rummerfield and worth more than $10,000. We'll also have a gift package from Lowe's as a runner-up prize in the drawing.
We have some great sponsors lined up that you'll be hearing more about in the coming weeks, and we're still looking for businesses that would like to work with us as a sponsor. SRT has great reach into the community thanks to this page, our website, and other social media outlets that can help you reach your audience, too.
Our Sponors
If you go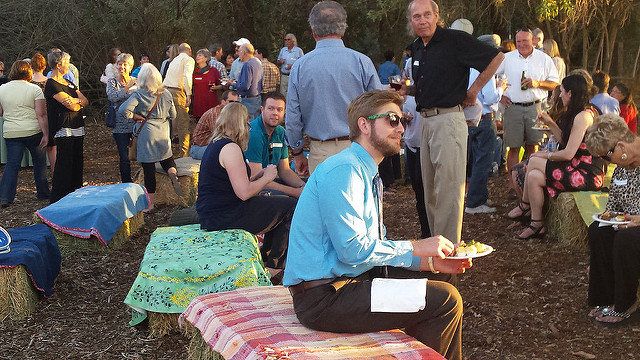 Event Title:
Evening Under the Oaks
Location:
Kaweah Oaks Preserve
Description:
Evening Under the Oaks: Nature After Hours returns! SRT's annual fundraiser is outdoors so we can party with the animals. We look forward to seeing you there! Event begins at 5:30 p.m. at Kaweah Oaks Preserve.
Tickets purchased before the week of Oct. 3 will be mailed to the purchaser or can be picked up at the SRT office on Garden Street. Tickets purchased week of the event must be picked up at the SRT office of at Evening Under the Oaks.